Hilton at St Georges Park
From

£50.00

per person

Group size

Min: 2 Max: 500

Address

Newborough Road
Needwood
Burton on Trent
DE13 9PD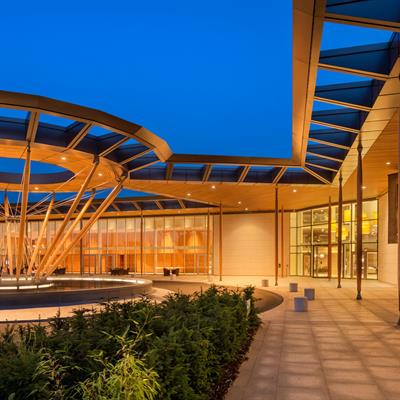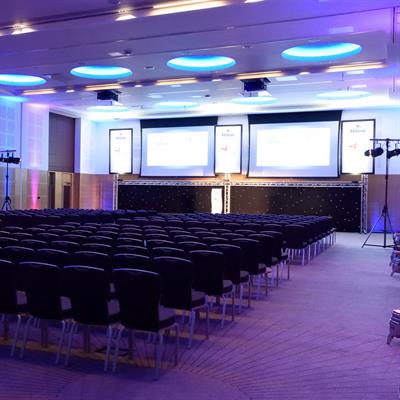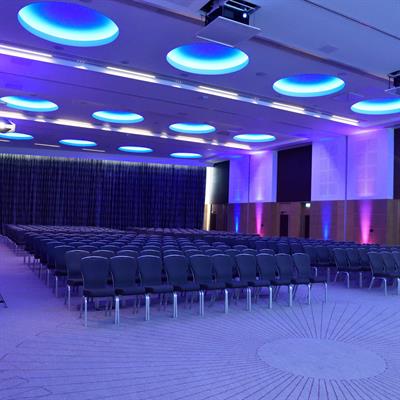 Hilton at St Georges Park has a total of 38 meeting spaces with the largest holding up to 500 delegates. There are 228 luxurious bedrooms with Wi-Fi, making it perfect for relaxing.

It is located a 15 minute drive from Burton-on-Trent Station and is 30 minutes off the M1 at Jct 24.
#Didyouknow The Hilton St Georges Park is the training ground for all 28 English national football teams? It also has an Outdoor Leadership Centre with activities including archery, low ropes challenge course & 40ft climbing.
Delegate rates
Day Delegate Rate from:

Main meeting room hire, three servings of tea, coffee and selection of snacks, two course lunch, plasma screen & flipchart, complimentary Wi-fi, complimentary car parking.

£50.00 inc VAT

24hr Delegate Rate from:

Main meeting room hire, three servings of tea, coffee and selection of snacks, two course lunch, plasma screen & flipchart, complimentary Wi-fi, complimentary car parking, three course dinner, access to the Health Club & Spa, overnight accommodation, full English breakfast.

£150.00 + VAT
Room capacities
| Suite name | Theatre | Reception | Cabaret | Banqueting |
| --- | --- | --- | --- | --- |
| Club England Team 1 | 50 | - | 24 | 36 |
| Club England Team 2 | 55 | - | 24 | 42 |
| Club England Team 3 | 55 | - | 24 | 36 |
| Club England Team 4 | 50 | - | 24 | 36 |
| Club England Team 2 & 3 | 120 | - | 48 | 72 |
| Club England Team 3 & 4 | 114 | - | 48 | 72 |
| Club England Team 2, 3 & 4 | 150 | - | 80 | 108 |
| Executive Drum | 100 | - | 48 | 80 |
| Private Dining Room | - | - | - | 80 |
| The Bob Paisley Meeting Room | 30 | - | 16 | 30 |
| The Brian Clough Meeting Room | 30 | - | 24 | 40 |
| The Don Revie Meeting Room | 40 | - | 24 | 40 |
| The Graham Taylor Meeting Room | 40 | - | 24 | 40 |
| The Hope Powell Meeting Room | 20 | - | 16 | 40 |
| The Howard Wilkinson Meeting Room 1 | 50 | - | 24 | 30 |
| The Howard Wilkinson Meeting Room 2 | 50 | - | 24 | 30 |
| The Howard Wilkinson Suite | 110 | - | 48 | 60 |
| The Keith Alexander Meeting Room | 35 | - | 24 | 40 |
| The Lecture Theatre | 96 | - | - | - |
| The Library | 50 | - | 32 | 40 |
| The Ron Greenwood Meeting Room 1 | 45 | - | 24 | 30 |
| The Ron Greenwood Meeting Room 2 | 45 | - | 24 | 30 |
| The Ron Greenwood Suite | 100 | - | 48 | 60 |
| The Sir Bobby Robson Ballroom | 500 | - | 248 | 420 |
| The Sir Bobby Robson Ballroom 1 | 100 | - | 64 | 72 |
| The Sir Bobby Robson Ballroom 2 | 100 | - | 64 | 72 |
| The Sir Bobby Robson Ballroom 3 | 100 | - | 64 | 72 |
| The Sir Bobby Robson Ballroom 4 | 80 | - | 48 | 72 |
| The Sir Bobby Robson Ballroom 1, 2 & 3 | 380 | - | 192 | 320 |
| The Sir Bobby Robson Ballroom 2, 3 & 4 | 360 | - | 184 | 280 |
| The Sir Bobby Robson Ballroom 1 & 2 | 250 | - | 128 | 216 |
| The Sir Bobby Robson Ballroom 2 & 3 | 250 | - | 128 | 216 |
| The Sir Bobby Robson Ballroom 3 & 4 | 200 | - | 120 | 204 |
| The Sir Trevor Booking Boardroom | - | - | - | 16 |
| The Terry Venables Meeting Room 1 | 45 | - | 24 | 30 |
| The Terry Venables Meeting Room 2 | 45 | - | 24 | 30 |
| The Terry Venables Suite | 100 | - | 48 | 60 |
| The Walter Winterbottom Meeting Room | 25 | - | 16 | 12 |
Useful information
Address

Hilton at St Georges Park
Newborough Road
Needwood
Burton on Trent
DE13 9PD