Everton Football Club Goodison Park
From

£26.95

per person

Group size

Min: 2 Max: 280

Address

Liverpool
L4 4EL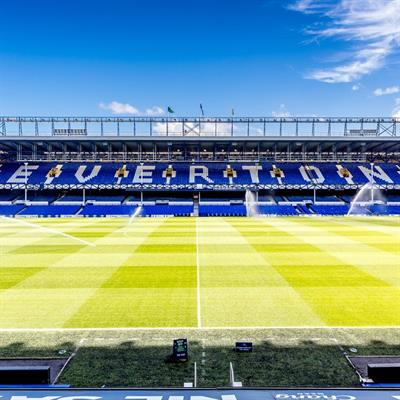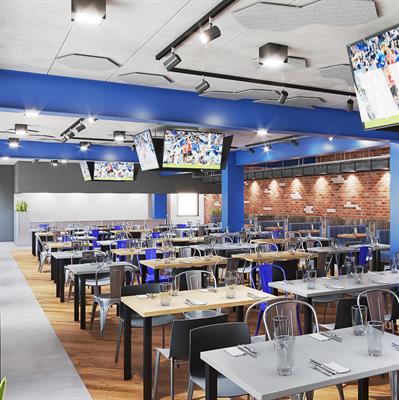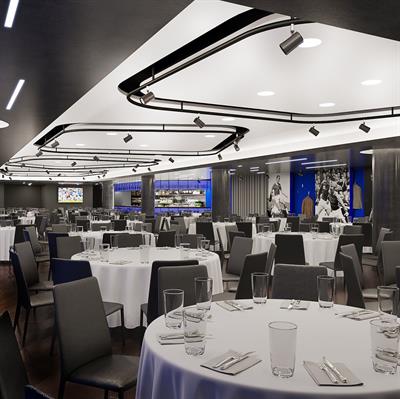 Everton Football Club is located in Goodison Park, Liverpool and has a total of eleven meeting rooms with the largest holding up to 280 delegates. There is onsite car parking and hotels nearby. It is currently undergoing a multi-million pound investment in the facilities.
Everton Football Club is located a four minute drive from Kirkdale Station and is just off the A59.
#DidYouKnow that Everton's catering, hospitality and events partner, Prestige Venues & Events (Sodexo), has won a fine total of 6 prestigious awards for its catering and event services at the Club.
Delegate rates
Kick-Off Day Delegate Rate from:

Room hire, flipchart with pad & pens, Jugs of iced water with cordials, tea & coffee on arrival, tea, coffee & biscuits mid-morning, tea and coffee mid-afternoon, light lunch of assorted sandwiches and fresh fruit.

£26.95 inc VAT

The Goal Delegate Rate from:

Room hire, flipchart with pad & pens, Jugs of iced water with cordials, tea & coffee on arrival, tea, coffee & biscuits mid-morning, tea and coffee mid-afternoon, light lunch of assorted sandwiches, hot jacket potato wedges with dips and fresh fruit.

£28.00 inc VAT

Full Time Delegate Rate from:

Room hire, flipchart with pad and pens, large plasma screen TV, iced water with cordials, jars of sweet treats, tea, coffee & biscuits on arrival, tea, coffee & biscuits mid-morning, tea, coffee & biscuits mid-afternoon, hot and cold finger food buffet lunch – chef's selection of 6 items + 2 salad bowls, fresh orange juice served with lunch.

£36.50 inc VAT

Extra Time Day Delegate Rate from:

Room hire, flipchart with pad and pens, large plasma screen TV, bottled mineral water with cordials, jars of sweet treats, tea, coffee, breakfast pastries & fruit platter on arrival, tea, coffee & biscuits mid-morning, tea, coffee & home baked cookies mid-afternoon, two course fork buffet lunch - chef's selection of hot dish & vegetarian option plus dessert, tea, coffee and softer drinks served with lunch.

£44.00 inc VAT
Room capacities
| Suite name | Theatre | Reception | Cabaret | Banqueting |
| --- | --- | --- | --- | --- |
| Alex Young Suite | 250 | 280 | 120 | 180 |
| Brian Labone Suite | 70 | 140 | 30 | 120 |
| Executive Boxes | - | - | - | 10 |
| Joe Mercer Suite | 80 | 120 | 48 | 100 |
| Sky Box | - | 30 | 20 | 20 |
| Sponsors Lounge | - | - | - | 16 |
| The Captain's Table | 130 | 150 | 54 | 150 |
| The Peoples Club | 100 | 200 | 48 | 120 |
| The '85 Lounge | 50 | 60 | 36 | 70 |
| The 1878 Brasserie | - | 120 | - | 140 |
| BT Box | - | - | - | 10 |
Useful information
Address

Everton Football Club Goodison Park
Liverpool
L4 4EL